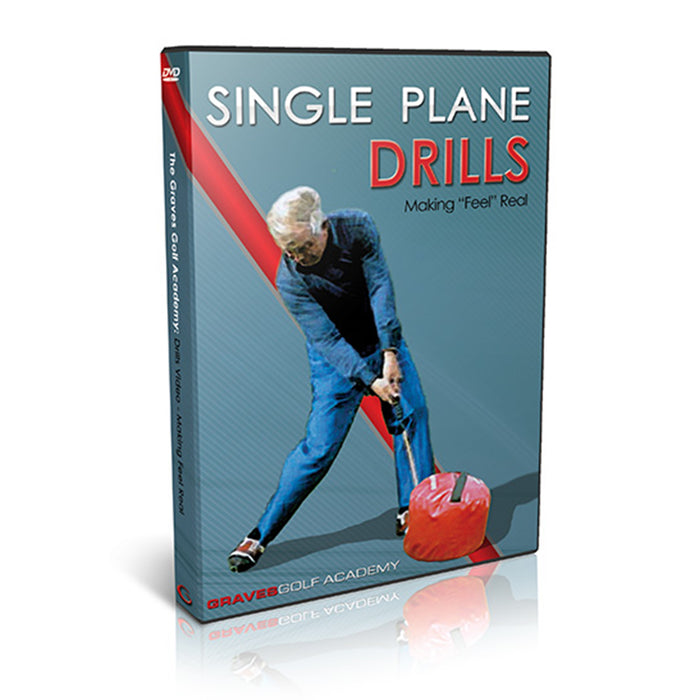 Single Plane Solution - Drills Video
It's the Fastest, Easiest Way to Get Maximum Distance, Accuracy, and Results from Your Single Plane Swing…
…But Read Carefully, Because Our Special 20% Discount Won't Last Much Longer!
If you're one of those golfers who wants to "jump to the head of the line" when it comes to getting the best possible results from your Single Plane Swing, then listen closely…
Because I have an exclusive deal for those Single Plane Swing golfers who are serious—and I mean SERIOUS– about improving their game and shooting lower scores FAST.
You see, one of the phrases you'll hear me repeat from time to time as I teach the Single Plane Swing is "making feel real". That's what I want my students to accomplish—a golf swing that's all about feel, with no mechanical thoughts or a head full of jumbled up tips from those golf magazines.
Just playing by "feel"…with confidence brimming and a sense of knowing what's going to happen on virtually every shot, the way you see the pros do it on TV.
How Cool Would THAT Be?
However, in my many years of teaching the Single Plane Swing, one thing has been certain: Getting this level of "feel" in your game doesn't happen overnight. You have to develop this sense of natural swing motion over a period of time by utilizing the proper drills and practice sequences.
But I've got a secret for you—I've found a way to fast-forward your Single Plane Swing success and get you hitting longer, straighter shots with more par and birdie opportunities in the fastest possible time. And that's where my Single Plane Solution Drills program comes in…
Todd, 
I have been following you for a long time and purchased most of videos and training aids, but the Drills video is the most helpful thing that you have put out to improve my game. I have definite things to work on now (in my garage) and my score is beginning to reflect it. I am thinking my game is going to get more consistent. I do enjoy the Webinars and get a lot from you and Tim.
Thank you
Ralph Greenway
The Single Plane Solution Drills program is a must have for anyone who wants to dramatically accelerate their mastery of the Single Plane Swing. Inside this multi-DVD set, I'll hand you the easy-to-learn drills to help you put your Single Plane Swing development on full-throttle and nail down every aspect of your game from the full swing all the way through the short game and putting.
First we'll start off with the full swing. Inside you'll discover…


How Moe addressed the ball and why a bad foundation causes inconsistency and poor ball-striking
How to feel and master the perfect address position
How to learn the ideal positions the golf swing
How to make the proper swing positions with the PVC Drill
How to know what ideal positions feel like with a golf club
How to identify the exact point in the backswing when the hands hinge
How to develop a perfectly on plane backswing
How to always know the right moment to transition to the downswing
How to better understand the club's angle of approach into the ball
How to achieve the perfect hand action into the downswing and impact
How to transition from proper impact to letting the club release
How to work on the proper lower body, leg and knee movement during the swing
How to feel the proper shoulder and club plane
The importance of proper spine positioning
How to train the proper shoulder motion to allow the hands to always lead
And more!
Plus, I'll throw in the Single Plane Solution Drills e-book as well, so you can have a printed copy with you at the range to reference and make notes on. Talk about a tremendous learning resource!
Of course, no matter how many "oohs" and "aaahs" you get from blistering those long tee shots…
We All Know that 70% of Actual Scoring Happens Within 50 Yards of the Green
And that's why I've also included the Single Plane Solution Short Game Drills. You'll get a personal lesson from PGA pro and co-founder of Graves Golf, Tim Graves, as he leads you, step-by-step, through the most essential drills to improve your putting, chipping and pitching.
This unique collection of specialized drills include:
Drills For Better Putting:
One-Hand Putting Drill (to get the correct hand and putter alignment, and prevent "flipping" of your wrist)
Upswing Drill (this one gives you just the right amount of upswing with your putter, resulting in the ideal spin and roll)
Speed Drill (helps you putt with the proper speed, as well as honing your sense of "range" at any distance from the hole – just imagine how much lower your scores will be when you're 2-putting every hole)
Drills For Better Chipping:
Space Drill (this simple yet effective drill ensures you a proper chipping stroke by emphasizing the perfect finish)
Hitting Down Drill (to get just the right amount of back-spin on the ball for better chip control)
Line Drill / Range Ball Drill (gives you a great feel for correct spin and roll on your chips, and tells you instantly whether or not your club face is square)
Drills For Better Pitching:
Toe-Up Drill (helps you get just enough loft on your pitches every time – critically important!)
Feet Down, Knees Flexed Drill (helps you keep your feet down throughout the shot, and your hands pointing at the hole … because if you lift your rear foot, and straighten your lead leg, you'll typically pull your shoulders out, and the ball will pull to the left)
Divot Drill (helps you see whether you're hitting down on the ball, and getting underneath it enough)
And LOTS more!
With both of these drills programs in your corner, you'll be well on your way to hitting better drives, chips, pitches and putts using my Single Plane Swing principles.
But I'm Not Through Yet…
With your order today, I'll also give you TWO BONUS videos—The Secrets of the Grip and The Secrets of Leg Action– at no extra charge whatsoever. In these tour-level lessons, I'll break down 2 of the most critical pieces of the Single Plane Solution, and explain why they're so important to the rest of the swing.
Then, I'll give the very best drills I know of to instill the proper grip and leg motion into your own swing in the quickest possible manner. You'll discover…
The proper pressure points of the hand
How the grip helps the wrist action… to give you straighter and longer shots
The easiest way to get more speed with less effort
The secret to taking stress off your back
The simplest way to get back into impact
How to develop more solid contact
And MORE!
And of course, everything is backed by our no questions asked, 100% money back guarantee…
Remember—this is simply the fastest, easiest way to put your Single Plane Swing on steroids and start playing better golf before you know it. But don't delay—this offer is for a VERY limited time, and we may pull it at any moment.
So let's get started—click on the button below and grab your Single Plane Solution Drills package NOW before you miss out!