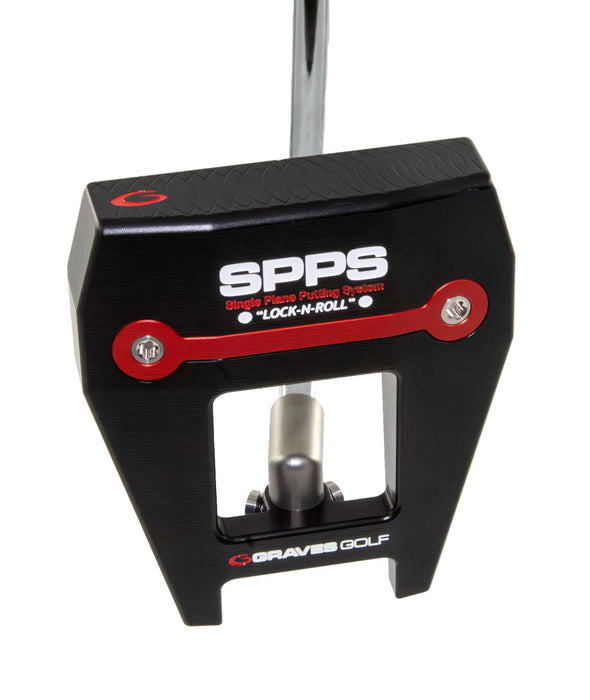 NOTE: You will receive the Arm Lock and Wrist Lock shaft at no additional cost. 
To complement the Single Plane Putting System, we proudly present the Lock-n-Roll Putter – the ultimate game-changer designed to maximize your putting performance.
The Lock-n-Roll Putter is a marvel of engineering that tackles the common pitfalls of traditional putters. Here's what sets it apart:
Lead Arm Lock: By integrating a locking mechanism that attaches to your lead arm, the Lock-n-Roll putter prevents any unwanted hand flipping at impact. Say goodbye to inconsistent releases and hello to a smooth, reliable stroke.

Reverse Face Balanced: Our putter's "reverse face balanced" design enables a straight-back, straight-through path, ensuring the putter moves effortlessly along the target line. Experience a seamless stroke with enhanced accuracy and distance control.

Effortless Alignment: Setting up your putter correctly is no longer a hassle. With the Lock-n-Roll putter, you effortlessly align your putts on the intended line, thanks to its user-friendly design that guides you to the perfect setup position every time.

Built-in Eye Alignment System: Achieve optimal body positioning effortlessly! The Lock-n-Roll putter features innovative shaft lean and lock indicators that direct you to align your body precisely, enhancing your consistency and stroke mechanics.
Say goodbye to missed putts and hello to a game-changing system that guarantees improvement. The Single Plane Putting System, together with the Lock-n-Roll putter, offers you the tools and knowledge to master the art of putting. Join countless golfers who have experienced remarkable results and start sinking putts like never before!
Take control of your putting game today and unlock your true potential with the Single Plane Putting System and the Lock-n-Roll putter. It's time to make your mark on the green!