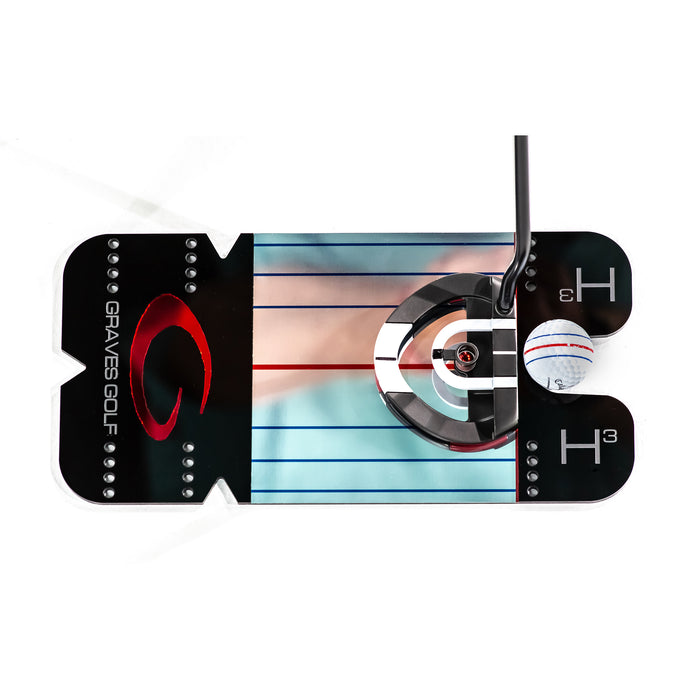 H3 Outdoor Putting Trainer
An amazing drive, a perfect approach – it's your best hole of the day! And then you not only blow the easy birdie, but you also miss the comebacker for par.
It's not your fault. It's the whole putting setup. You're trying to line up your putter to a target at a 90-degree angle. Imagine trying to do that with a free throw. It'd be impossible…
What you need is a solution that allows you to practice your putting stroke and aim your putts online, so you can learn to trust your line, every time you putt!
Graves Golf Co-Founder Tim Graves and the Master Instructor Team have developed a training aid to help you work on the most important stroke during your golf game…the putting stroke!  Because putting is worth almost half of the game and relates to your full swing, you need to make sure you are practicing correctly.
The H3 Putting Trainer is the next purchase you need to make for your bag.  We have several features to help you work on your putting stroke.  Check out some of the highlights:
Mirror for Eye and Shoulder Alignment to Create the Ideal Stroke
Easy to See Red Path and Face Lines, plus Blue Alignment Lines to Help the Putter Go Back Square
Putting Gates using Tees to Get Stroke Path Correct
Raised Edges for Proper Stroke