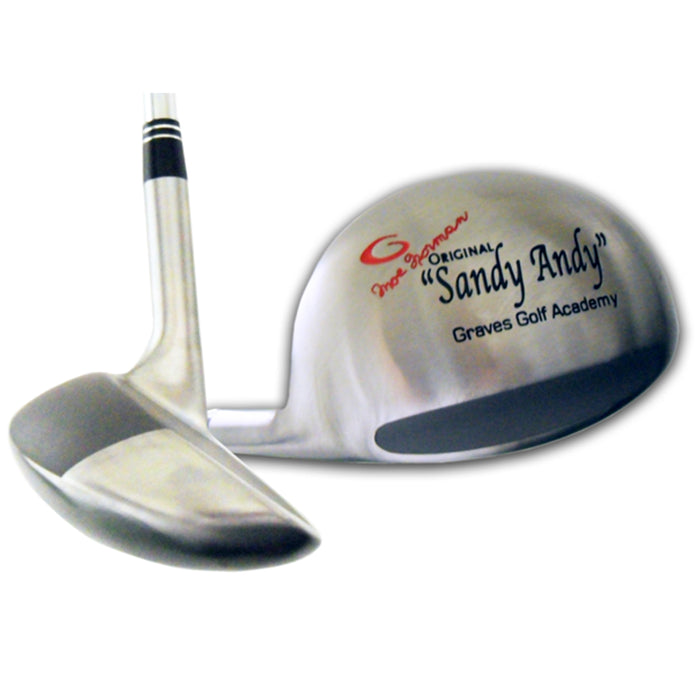 The story of Moe's 'Sandy Andy' is a great one. Unable and unwilling to put the required 'slice' swing on a shot out of a bunker that was required from traditionally built clubs, Moe couldn't get out of bunkers very well. He simply could not, and would not swing the club in any other direction than at his intended target. As he famously said – "It's not me!"
Knowing that he had to be able to get out of bunkers in order to compete at his level, he searched and searched until he found the club that became his beloved "Sandy Andy". The very first Sandy Andy was a wedge manufactured by Ram Golf, that had a large, rounded bottom. This rounded bottom, which in fact was simply 20 degrees of bounce built into the bottom of the club, allowed Moe to swing out of bunkers "his way". Moe found his answer with that old Ram wedge, and when Moe finally showed Todd his "secret" weapon for the bunker, that old Ram wedge was completely worn out!
Graves Golf has reproduced Moe's Sandy Andy in its original form. With 20 degrees of bounce built into the club, you can now make getting out of bunkers as easy as tossing balls up on the green, just like Moe!

The Graves Golf Original Sandy Andy wedge specifications:
55 degrees of loft
Steel shafted
Graves Golf grip installed
Upon production, we put the Sandy Andy into a few alumni's hands to practice with before we officially announced the club. After a few months, some additional benefits of practicing with the Sandy Andy surprised us:
When practicing off tight lies or mats, teaches you how to lead the clubhead with your hands into impact, a vital aspect to striking the ball solidly. Much like the recently advertised popular training aid, the Sandy Andy makes you lead with your hands off tight lies, or you hit it thin!
In addition to teaching you to lead with your hands, the Sandy Andy, while making bunker shots infinitely simpler, also works great out of the mid to high rough in and around the greens!
Get your Sandy Andy today, and start enjoying the simple, Moe Norman way to get out of the bunker, along with the many other benefits of training it offers!